How IVR studio can improve the performance of your call center /contact center
Interactive Voice Response (IVR) is a performance accelerating technology for contact centers that reduces costs, saves time, improves call routing, and caters to dynamic businesses. IVR allows computers to interact with the customer (caller) to collect the required information before routing the call to the agent. When a caller calls the contact center, the IVR telephony menu system technology uses voice tones and an input dial pad to ask different questions and collect the caller's data. Based on the gathered data, the call will be automatically routed to the most suitable agent. It will not only improve the company-customer relationship but it will improve contact center efficiency.
How IVR works
IVR uses pre-recorded greetings and questions to interact with the caller that works in a real-time environment. These questions collect caller's data such as:
Choosing different languages (suitable in some countries where English is not a native language)
Purpose of call
Personal data such as account number
What services the caller wants such as sales, products, queries, feedback, etc.
Based on the collected data, the IVR system routes the call to the most suitable call agent. The call agent has all required information such as the purpose of the call, previous call history, and account status, etc. IVR technology provides user-friendly interaction, reducing costs and time consumption and optimizing the agent's performance.
ICTBroadcast IVR studio
ICTBroadcast IVR studio is a complete IVR designing package. ICTBroadcast IVR studio provides interactive web-based IVR custom setting options that enable users to design a custom IVR as per your business requirements or scenario. The developer does not need to write complex programming codes. It provides drag-and-drop tools that can be used by anyone who has the basic knowledge to design custom and personalized IVRs. It includes a variety of functions that makes it perfect for use in public, private and social service sectors. Moreover, it offers URL integration support that can be used for third-party software integration.
How IVR Studio can improve the performance of your call center
1. Gathers required information smartly
IVR uses voice tones to say a greeting and ask different questions while the caller uses a dial pad to answer these questions. The computer interacts with the caller using natural tones in a real-time environment that significantly improves customer relationships. It asks multiple questions to know what the caller wants to do and finally routes the call to the most appropriate agent.
2. IVR systems integration
IVR systems can be integrated with multiple technologies (such as big data, cloud computing, Artificial Intelligence), different software, or internet web-browsers. All of these technologies can be integrated with the IVR system to work on a single platform that reduces hassle and frustration.
3. Drag-and-Drop interface
IVR studio/IVR designer has a drag-and-drop interface that significantly reduces the design complexity. The developers do not need to write complex codes and every tool can be accessed with a simple interface. It saves time and cost because an IVR studio can be operated by any person having basic knowledge. IVR studio includes every required feature in the toolbar that can be placed, edited, updated, connected, and managed.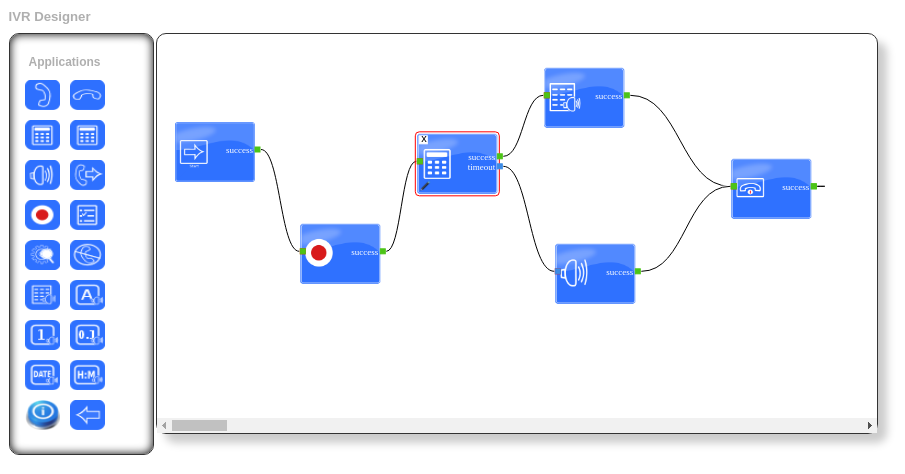 4. Centralized IVR system
IVR systems can be set up on centralized cloud-based servers that can provide services to everyone regardless of their position. The agents can work remotely (such as working from home) or the caller can contact from anywhere including remote areas. IVR system can provide error-free, faster, and reliable services to everyone.
5. Automated customer support
Sometimes, the user might not need to contact center agents if his queries can be resolved in some situations. IVR systems can be designed to provide automated customer support using and integrating advanced technologies such as speech to text, text to speech, speech recognition, and Artificial intelligence. The caller may find a suitable solution for his problem without contacting the agent.
6. ICTBroadcast applications
ICTBroadcast provides multiple applications that are provided by call centers. It automatically receives inbound calls, asks questions, and decided smartly as per customer's details. It includes call answer, call hang-up, getting customer's input, playing different audios like voice tones, music or voice response, call transfer, call record, text-to-speech, and rejecting calls. Moreover, it can prioritize calls based on the caller's details, urgency or the caller's value.
7. ICTBroadcast, a powerful analytic tools
ICTBroadcast has a powerful analytic tool that provides complex data in a better visual and graphical form. The call center manager or director can check the status of customer satisfaction, agent's performance, and efficiency of the system. IVR studio can be connected with the cloud and analytic features can be accessed remotely.

8. Save time and cost
Inappropriate call routing will result in time and cost wastage for both caller and the company. The IVR automated call routing technique directly routes the call to the most suitable agent that saves time and calling charges. IVR drastically reduces the average call time and operational cost that improves call center performance.